xoria256 terminal color scheme
---
I have grown fond of Vim's xoria256 color scheme recently. It features "finely tuned soft gamma" using 256 colors on a dark background, and claims to appear the same in both graphical and terminal Vim; although I found the latter to be slightly muted (particularly 8 units less in byte value in at most two color channels) according to xmag and gcolor2.
I ported it to the terminal last night (see screenshots below) and was pleased with the result: it felt balanced, colorful, and easy on my eyes.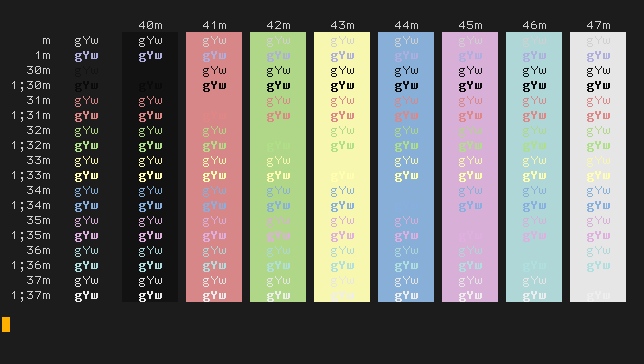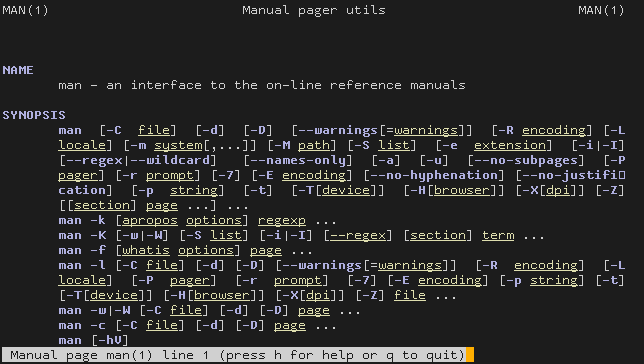 To use this color scheme in your terminal, simply paste the following snippet into your ~/.Xdefaults file and then feed it into the xrdb program. Now, any new terminals you launch will use this color scheme.
!black.normal        : xoria256.LineNr.guibg
!black.bright        : black.normal.rgb - 8
#define _color0        #121212
#define _color8        #0a0a0a

!red.normal          : red.bright.r - 8
!red.bright          : xoria256.Special.guifg
#define _color1        #d78787
#define _color9        #df8787

!green.normal        : green.bright.g - 8
!green.bright        : xoria256.PreProc.guifg
#define _color2        #afd787
#define _color10       #afdf87

!yellow.normal       : yellow.bright.rg - 8
!yellow.bright       : xoria256.Special.guifg
#define _color3        #f7f7af
#define _color11       #ffffaf

!blue.normal         : blue.bright.b - 8
!blue.bright         : xoria256.Statement.guifg
#define _color4        #87afd7
#define _color12       #87afdf

!magenta.normal      : magenta.bright.rb - 8
!magenta.bright      : xoria256.Identifier.guifg
#define _color5        #d7afd7
#define _color13       #dfafdf

!cyan.normal         : cyan.bright.gb - 8
!cyan.bright         : green.bright + blue.bright
#define _color6        #afd7d7
#define _color14       #afdfdf

!white.normal        : white.bright.rgb - 8
!white.bright        : xoria256.Folded.guifg
#define _color7        #e6e6e6
#define _color15       #eeeeee

!bold                : xoria256.Type.guifg
!underline           : xoria256.htmlValue.guifg
#define _colorBD       #afafdf
#define _colorUL       #dfdfaf

!foreground          : xoria256.Normal.guifg
!background          : xoria256.Normal.guibg
!cursorColor         : xoria256.Cursor.guibg
#define _foreground    #d0d0d0
#define _background    #1c1c1c
#define _cursorColor   #ffaf00

URxvt*color0         : _color0
URxvt*color1         : _color1
URxvt*color2         : _color2
URxvt*color3         : _color3
URxvt*color4         : _color4
URxvt*color5         : _color5
URxvt*color6         : _color6
URxvt*color7         : _color7
URxvt*color8         : _color8
URxvt*color9         : _color9
URxvt*color10        : _color10
URxvt*color11        : _color11
URxvt*color12        : _color12
URxvt*color13        : _color13
URxvt*color14        : _color14
URxvt*color15        : _color15
URxvt*colorBD        : _colorBD
URxvt*colorIT        : _colorIT
URxvt*colorUL        : _colorUL
URxvt*foreground     : _foreground
URxvt*background     : _background
URxvt*cursorColor    : _cursorColor

XTerm*color0         : _color0
XTerm*color1         : _color1
XTerm*color2         : _color2
XTerm*color3         : _color3
XTerm*color4         : _color4
XTerm*color5         : _color5
XTerm*color6         : _color6
XTerm*color7         : _color7
XTerm*color8         : _color8
XTerm*color9         : _color9
XTerm*color10        : _color10
XTerm*color11        : _color11
XTerm*color12        : _color12
XTerm*color13        : _color13
XTerm*color14        : _color14
XTerm*color15        : _color15
XTerm*colorBD        : _colorBD
XTerm*colorIT        : _colorIT
XTerm*colorUL        : _colorUL
XTerm*foreground     : _foreground
XTerm*background     : _background
XTerm*cursorColor    : _cursorColor

! enable coloring for bold and underlined text
XTerm*vt100.boldColors     : False
XTerm*vt100.colorBDMode    : True
XTerm*vt100.colorULMode    : True
XTerm*vt100.colorRVMode    : False
XTerm*vt100.veryBoldColors : 6

---
Updates
---